The best free Shopify apps to install on your site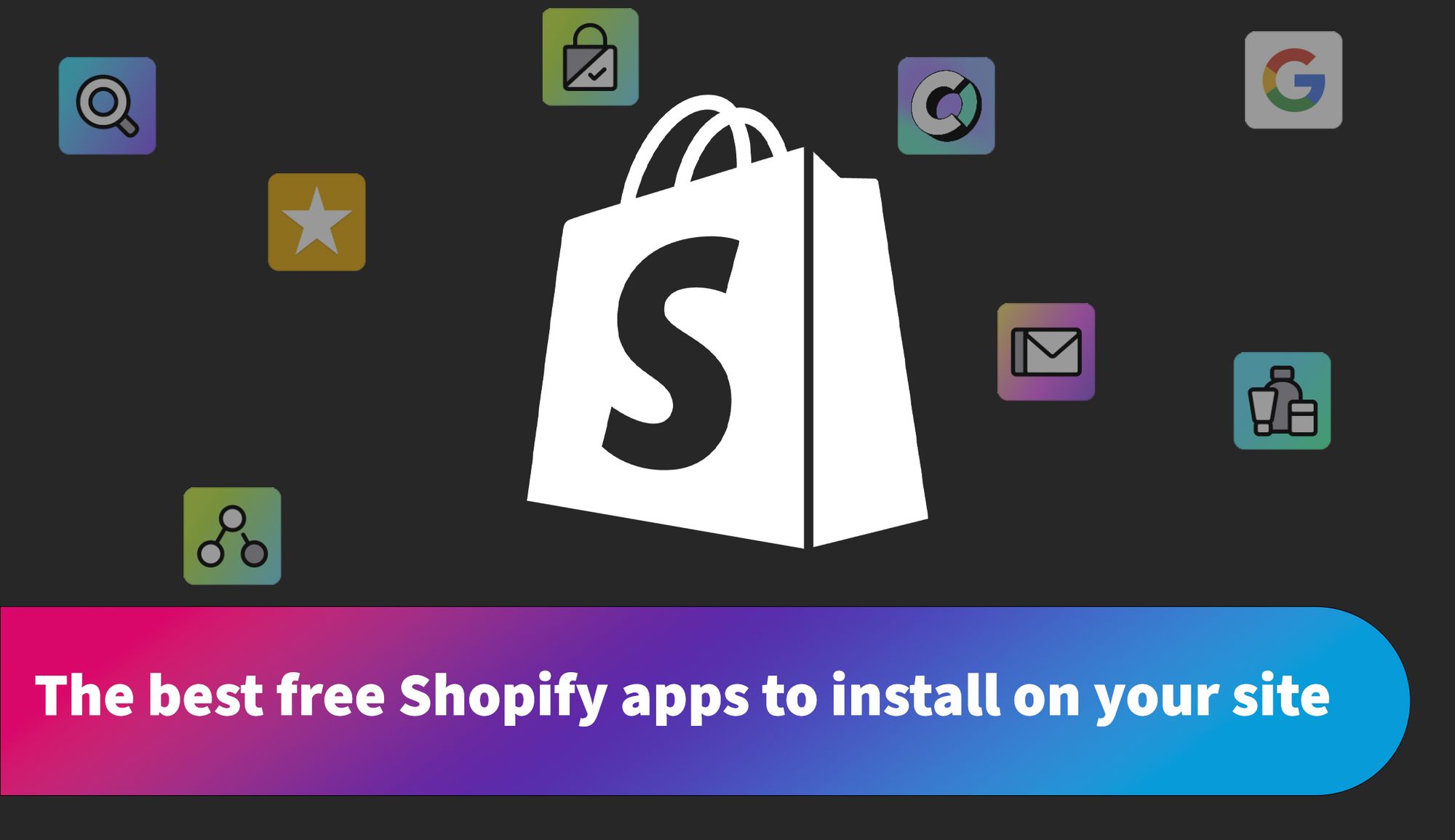 In this article we will talk about the top Shopify apps to install on every site. We are going to walk through the must for every website, and great to have for specific scenarios.
What apps do you need to make your website functional? Lets check which apps I always install!
Shopify Privacy & Compliance
Oké let's do this the first app I ALWAYS install on every website is Privacy & Compliance. Why you may ask? Well because all websites I have worked on so far are based in Europe, so making sure the users privacy is taken care of is a must! The Privacy and Compliance app is an easy tool to give your customers the choice of what happens with their data. When you are using Google Analytics for example, in Europe the customer has the option to turn some tracking on or off. For this a cookie pop-up is used, and that is where the Privacy & Compliance app comes in. The Privacy & Compliance app also is perfectly ready and up to date for US Privacy Laws.

Shopify Translate & Adapt
After you have installed the previous app, the next logical choice is to install the Translate & Adapt app. Why you may ask? Lets say your website is generally available in English but you want to go international and build a Dutch website too. You will want to make sure customers actually see Dutch content, you might want to change up visuals and SEO as well. Here is where the Translate & Adapt comes in place. The Shopify app will automatically translate up to two languages of your choice, but you can add as much languages as you would like. With a quick click you can translate your entire website and with some more clicks you can even customise the local visuals. Do you want to go international? Than this app is for you!

Shopify Geolocation
Once you have gotten your website fully translated, the next thing is that you want to make sure your customers see the content that is made for them. With the Shopify Geolocation app you can make sure that your site visitors can select their language and currency properly. Unfortunately in Europe it is not allowed to auto-redirect users, but what is allowed is giving a pop-up with "you might want to change your language". The geolocation app will take care of that for you!

Shopify Flow
Before we go to the marketing apps, there is one app we can not miss, Shopify Flow. In my opinion Shopify Flow is AWESOME. Since a couple of weeks Shopify actually allows Shopify Flow on all plans. So from your Basic plan to your Plus plan, all Shopify stores can use Shopify Flow. To me this was actually one of the most exciting updates of the Shopify Editions Summer 2023. With this app you will be able to automate a lot of different tasks on your website. From automatically tagging orders, to sending out low stock emails to your team or connecting with your favourite marketing app to run some smart operation, there are so much possibilities with this app! Automate your store so your one man operation suddenly becomes much more easy.

Shopify Email
Next up is the Shopify Email app. This is Shopify's approach on email marketing and 10.000 emails per month are included in each merchant default subscription. Do not worry, you are not limited to "just" 10.000 emails per month. When you manage to exceed that amount, you will start paying for send emails. Each month you will get 10.000 for free, and after you will pay $1 USD per 1000 emails. Still crazy cheap! Why is this app in the list? Simply because it is super useful. From forgotten carts to newsletters and product updates. Shopify Email has all the options. You are now even able to generate a good title and intro with Shopify Autopilot, the build in AI. When you already have a customer base, you are able to segment your customers and send emails to these special segments.
To make this even better, you will be able to embed products into your email with a direct checkout link. Since email marketing is still one of the most cost effective ways with the best results for marketing, having a great email marketing app is absolutely necessary.

Shopify Forms
The most amazing combination with the Shopify Email app, is Shopify Forms. This app has gotten a really big update a couple of weeks ago during the Shopify Editions Summer 2023. One of the updates is being able to now add more fields to your forms, which will then load in the data in customer metafields. The other big update is that you can now add and embed a form on a single page. Personally I think these updates are absolutely brilliant and I have actually had the opportunity to use the new features for a fix for a customer.
Do you want to have a pop-up on your website to gather emails for email marketing or would you like to create a sign-up form for an event you will have? Shopify Forms will have your back!

Product Reviews
Have you ever seen those fancy "star ratings" on Google search for products you where searching for and have those on the product pages as well? Thats where the Product Reviews app from Shopify comes in. The app is quite basic and not everyone thinks it has quite enough features, but as a free and easy to use app it is very useful. You can add your review input and show blocks with a couple of clicks in the theme editor and you are on your way to get those reviews in! Do you want all of the reviews to show immediately? Cool, there is a setting for that just be aware of troll reviews or people that straight up claim things that are not true. You can also make sure all reviews are moderated before you publish them. I would recommend you doing this so you will not get any "fake shit" reviews on your website.

Google & YouTube
This app can both be in the Marketing, and Every Store section, but I put it in the Sales section since it shows as Sales app on your store. Besides the fact that this app will help you to list your products on Google Merchant Center and therefore make sure your products can be listed on Google Shopping and YouTube, the most important feature is the Google Analytics connection. Measure your visitors and use that data to directly place ads on Google and YouTube. This all in one solution app is super important to have!
Do you want to know how to install Google Analytics 4 in this app? Read the article here!

Facebook & Instagram
Every business has a Facebook and Instagram page. And most businesses use their page very actively. How cool would it be to actually being able to sell your products from these channels? Thats where this apps comes in. A quick connection to your Facebook account and page and you will have setup a Commerce account within the Facebook Business Manager in a couple of minutes. After validation you will be able to tag your products into your social media post and have those awesome icons show up 😎. The app will install the proper pixels and you will be able to measure your visitors across platforms. Super nice if you ask me.

Shopify Bundles
The newest edition to the list of great marketing/sales apps is the Shopify Bundles app. Only released a couple of weeks ago during the Shopify Editions Summer 2023 event, the bundles app is absolutely brilliant. You are able to create native bundles from products on your store and list them as separate products. Meaning if you have for example a smartphone and want to make sure your customer buy's that extra charger or pair of headphones, you can bundle them up and sell them as 1 product with their own price and discounts. To make sure that you do not run out of stock to sell this bundle, the stock level of the bundle will automatically synchronise with the product that has the lowest stock available. You will never "oversell" in this way and disappoint customers.

Search & Discovery
Upsells, recommendations and amazing search and filter abilities. Every e-commerce websites needs this and luckily there is Search & Discovery. This app includes all of the above. From custom filters based on metafields and with the new edition of filter option groups, to manually being able to add a product as recommended product on product pages you can do everything to make the conversion on your store higher. This app even will be able to recommend special products in search. So if your customer is searching for a specific product you can "push" the product you would like to highlight.

Shopify Collabs
This app I personally do not have much experience with yet. However, I am working on a store that is probably going to launch some options with this soon.
You are probably wondering, why are you mentioning it here? Well, I am pretty excited to start using this app! This app is build for you to start your own affiliate marketing right from your Shopify Store. Setup different tiers in a couple of clicks, invite creators you would like to promote your store or let random people sign up though a form. Every aspect of affiliate marketing is covered with this app. The list of creators that are signed up is easily searchable, and shows you their followers and engagement to make sure you will recruit the best creators for your brand!

---
Most of these apps are the apps that I install on every single store as soon as I set it up. You might have noticed that all of these apps are either made by Shopify or direct partners. Why did I include just these apps this time? It is because these native Shopify apps are a must have and give merchants plenty of options for a lot of cool and useful features in their store. Of course there are a lot of paid apps out there that do exactly the same and more, but for this time I wanted to focus on the free/included apps to make sure they are accessible for everyone!
In the next couple of weeks I will do install and setup guides for all these apps.
Would you like to see my recommendation for the best paid apps as well or did I forget some apps? Let me know in the comments or on social media! Oh and make sure to give us a follow and sign up for the newsletter!